" Where colors and textures merge into a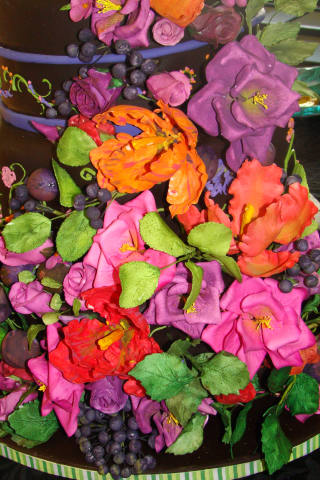 Wildflowers
wedding cakes are edible custom works of art masterfully decorated with exquisite hand painted sugar flowers, berries, leaves and ribbons creating something so exquisite and charming they will take your breath away..
Fresh farm butter, Belgian chocolate, imported liqueurs, fragrant pecans and seasonal berries merge with truly original recipes that bring about a combination of flavors and freshness that set my cakes apart. They are moist, delicious and available in a wide variety of
flavors and fillings
. Exclusive cakes baked to perfection made according to the time respected methods of the fine patissier. Filled with a buttercream made with a French meringue, special cooked sugar syrup and whipped butter, bourbon chocolate truffle, or an exquisite French lemon cream, just to name a few.
Wedding cakes are covered in buttercream, rolled fondant, fondant lace, or in white or dark chocolate to create the perfect canvas for the beauty of your wedding cake to unfold.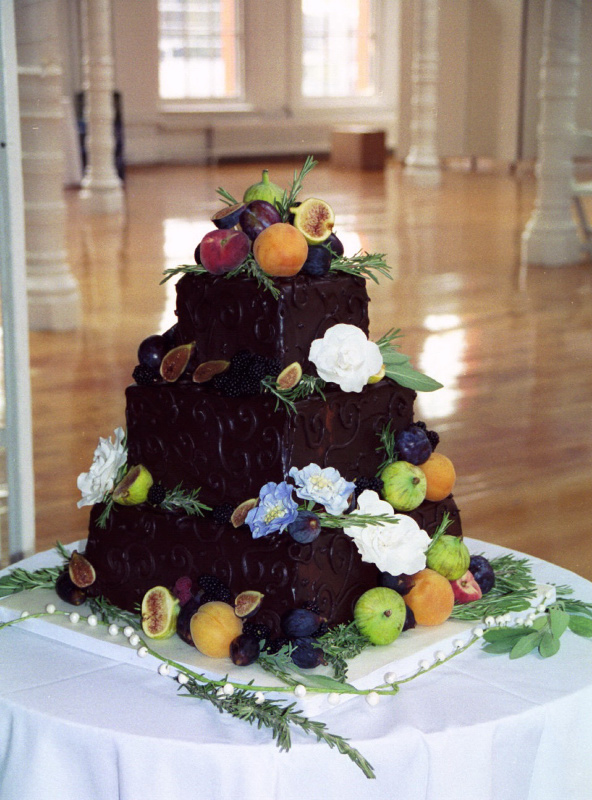 A rich cake covered in imported chocolate with sugar flowers, fresh figs, apricots, rosemary & sage. This cake is an example where I've used fresh fruits & herbs in combination with sugar flowers for a decidedly unique approach.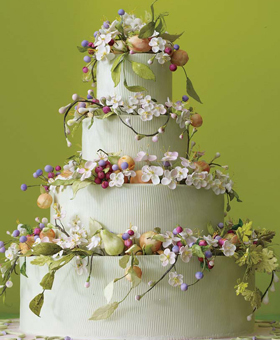 A gros grain finish to the fondant creates a soft, gentle texture which is accented with peaches, tiny pears, apple blossoms, leaves and berries hand made out of sugar.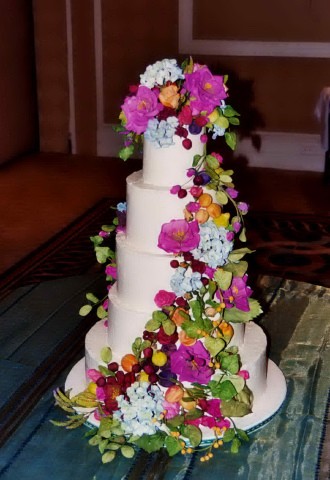 This cake is an example of a cascade created using intensely colored sugar flowers, foliage and fruits. The front of the cake has a full cascade, however the reverse side of the cake has a modified cascade. This combination gives the wedding cake visual symmetry from all angles of view.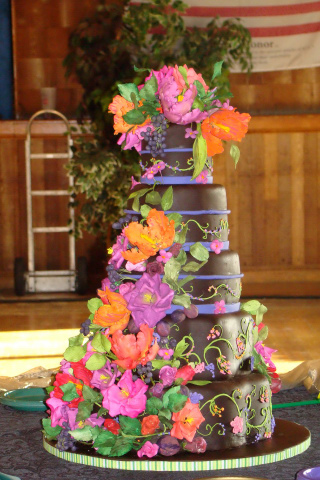 La joie de vivre! A fanciful and fabulous New Orleans inspired chocolate rolled fondant wedding cake. All of the playful yet elegant nuances of the French influence are captured here from the elaborate colorful brush embroidery to the intensely colored sugar roses, parrot tulips, fruits and berrie

s.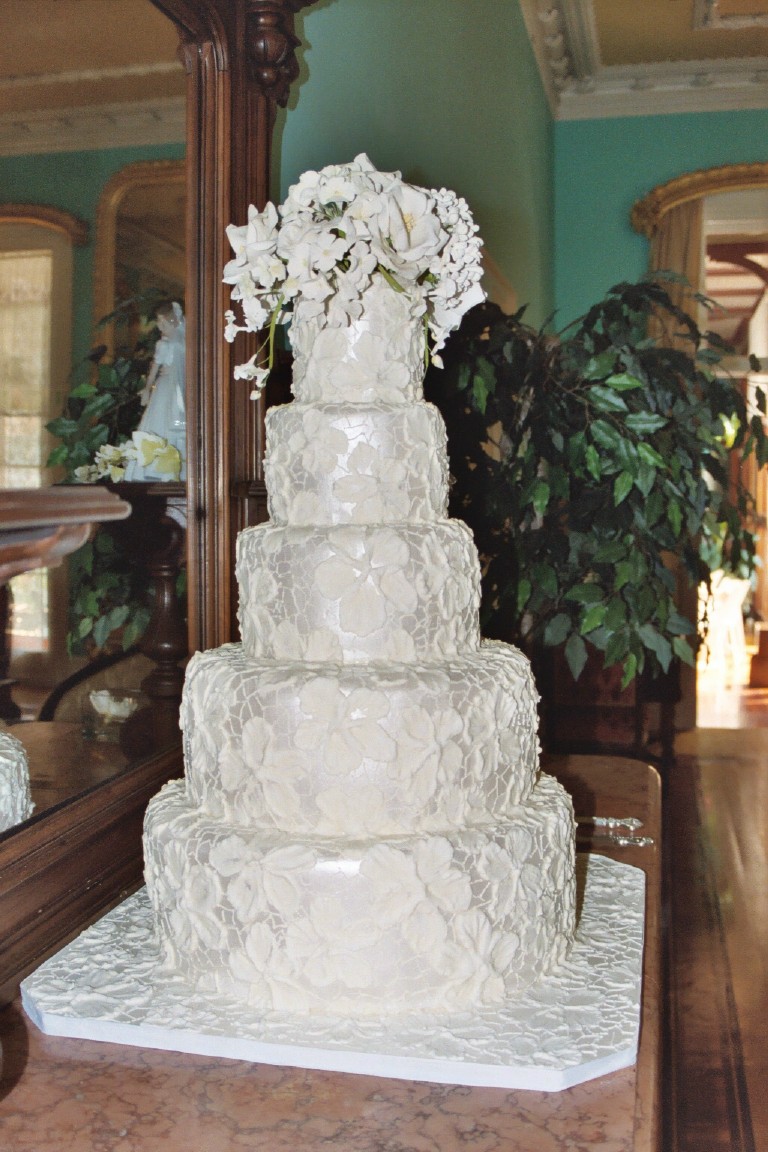 A stunning brocade wedding cake decorated with fully opened sugar roses, hydrangea, orchids, and jasmine.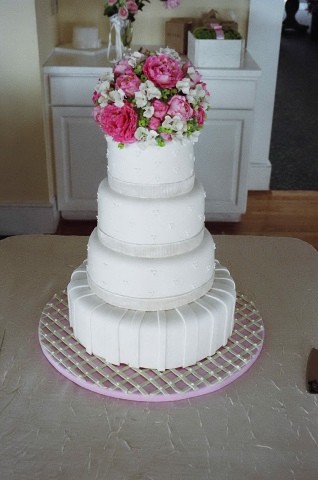 Gorgeous summer sugar pink peonies and hydrangeas decorate an absolutely exquisite rolled fondant wedding cake. The cake board adds an element of color and texture in a subtle palette of soft pinks and greens.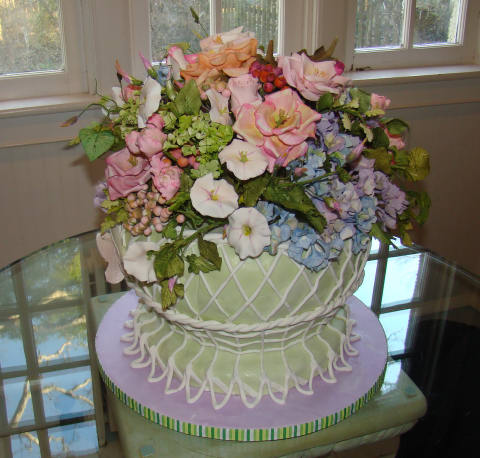 This garden wedding cake was created for a television segment on new trends for wedding cakes for the series Party Planner with David Tutera soon to be airing on the Discovery Home Channel. A French wire basket cake in sage green and white is virtually overflowing with a myriad of sugar flowers including hydrangeas, morning glories, roses, leaves, wildflowers and berries in a pastel color palette.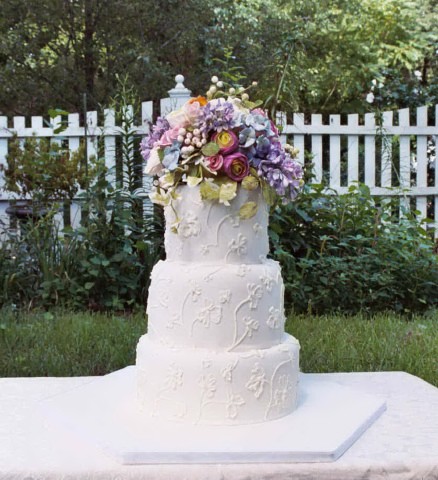 A gorgeous summer wedding cake decorated with hand painted brush embroidery. Lilac, ranunculus, roses, berries and ivy in a riot of colors speak to the warm summer days. Simply lovely.
Deep violet plays against the palest shade of azure blue in this exquisite wedding cake. Decorated in hand sculpted rolled fondant flowers, vines, and leaves for a chic metropolitan fall wedding.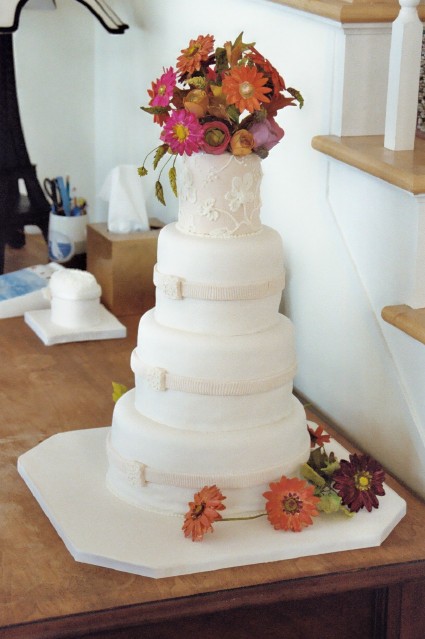 A chic four tier wedding cake decorated with colorful gerbera daisies and rannunculus.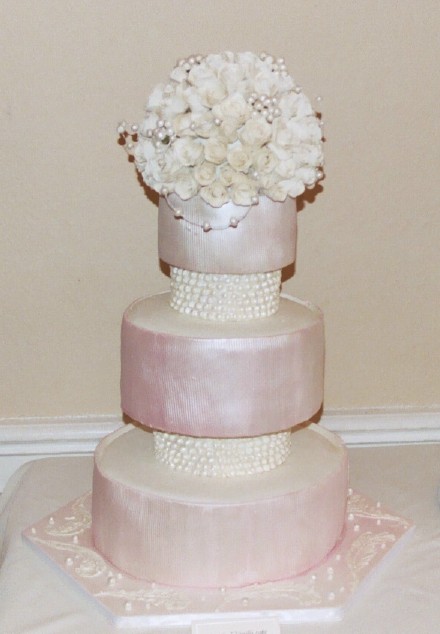 Edible pearls and white sugar roses create an exquisite couture wedding cake in a soft pink and white color palette.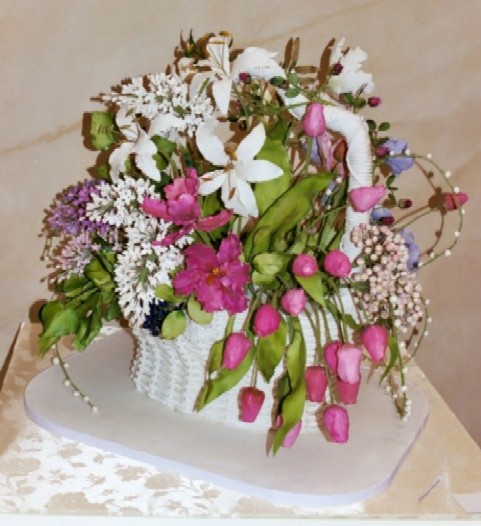 The Wedding Basket speaks to an era when wedding guests walked together to the site of the ceremony gathering flowers along their way as a gift for the couple. This old European tradition gave rise to the creation of a wedding basket and was the inspiration for this creation

.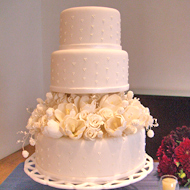 A fashionable and chic rolled fondant wedding cake created for the editors of the Knot for a special segment featured on the Today Show.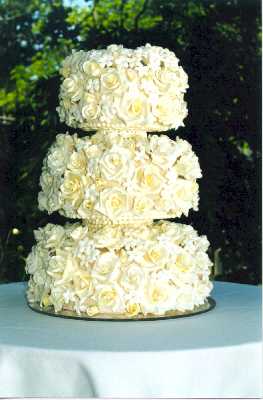 A stunning three tier wedding cake covered in sugar roses and stephanotis.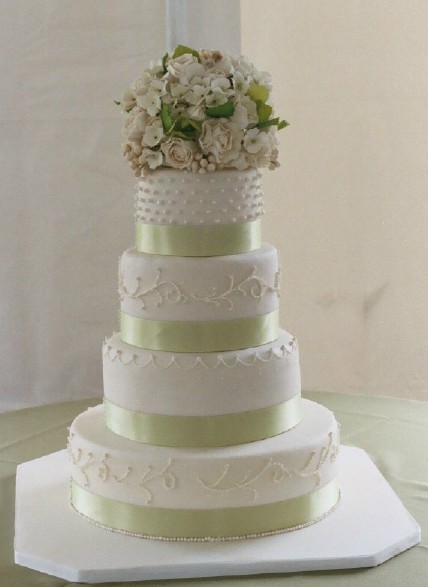 Soft and beautiful in white and sage green. A four tier rolled fondant wedding cake decorated with edible pearls and royal icing details topped with white English roses, hydrangeas, and berries.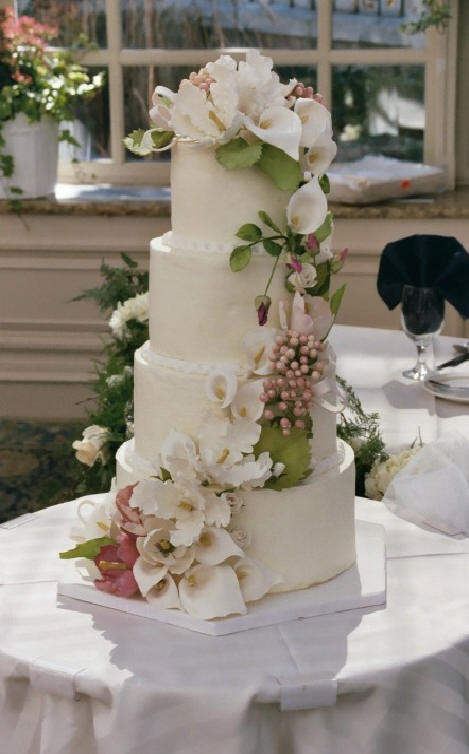 A gorgeous cascade European buttercream cake with parrot tulips, berries and calla lilies.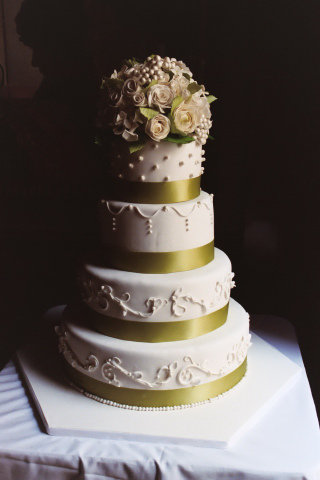 This stunning four tiered rolled fondant wedding cake was decorated with dramatic swirls of vines and edible pearls. Topped with hand sculpted sugar roses, leaves and berries.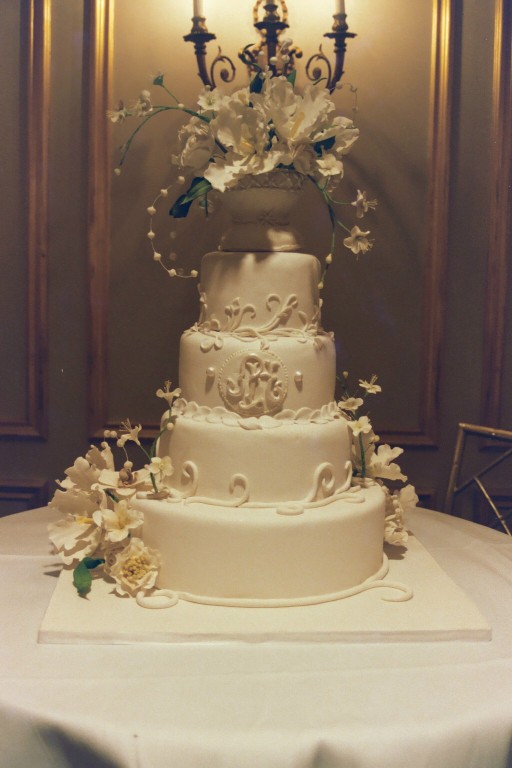 Elegant and exotic 4 tier rolled fondant wedding cake decorated lavishly with sugar parrot tulips, pincushion flowers, apple blossoms and edible pearls. Detailed with a hand sculpted monogram .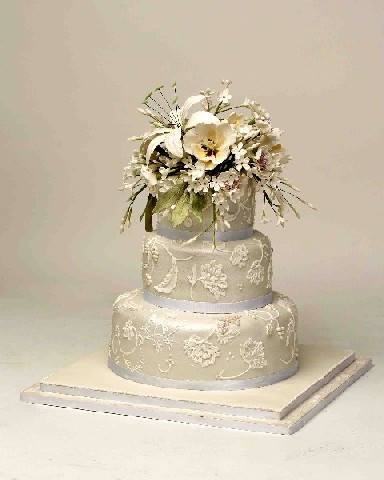 A gorgeous rolled fondant wedding cake decorated with brush embroidery in royal icing. This cake was decorated in an all white color scheme using sugar tulips, jasmine, lilies and pincushion flowers.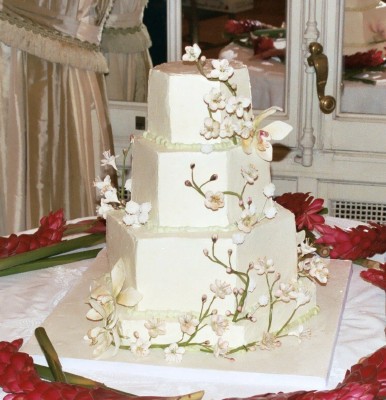 Sugar orchids and apple blossoms create absolute magic on this hexagonal buttercream Asian inspired wedding cake. A soft palette of colors and lovely bamboo patterned piped border in a pale sage green complement the soft colors of the room.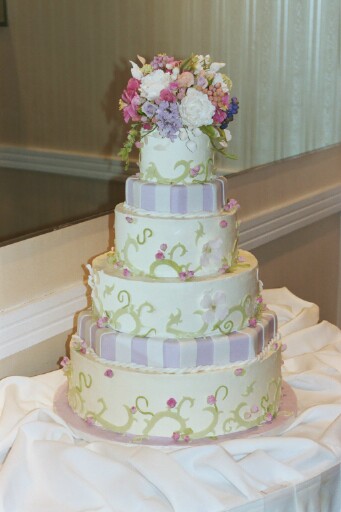 A breathtaking wedding cake decorated with fondant and buttercream and the most wonderful sugar flowers. Fully opened fuchsia roses, rose buds, white garden peonies, climbing miniature roses, ivy, wild berries, dogwood, and lavender lilacs adorn the top of the cake. The buttercream tiers are decorated with fondant vines and scrolls, dogwood blossoms and tiny sugar roses.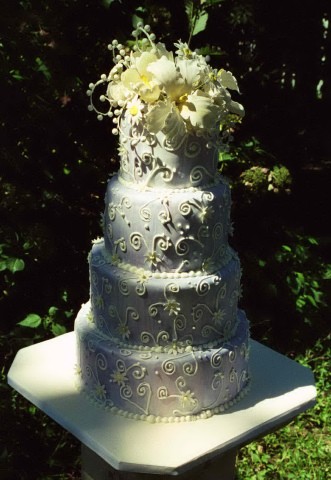 A stunning summer wedding cake in a lavender & lilac watercolor.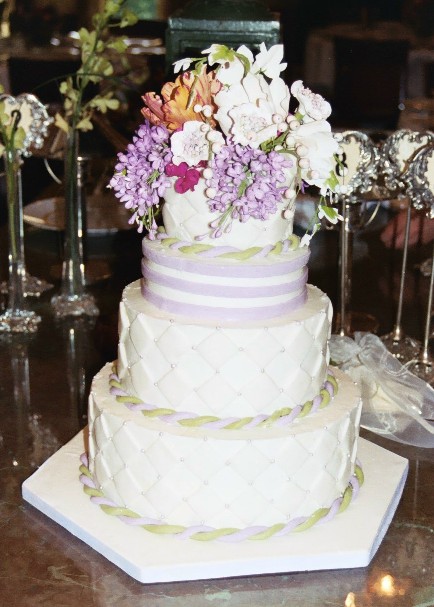 A lovely buttercream wedding cake decorated with playful accents of rolled fondant in diamonds, stripes and a colorful rope border. Sugar lilacs, pincushion flowers, roses, ivy and a riot of tulips create a colorful display.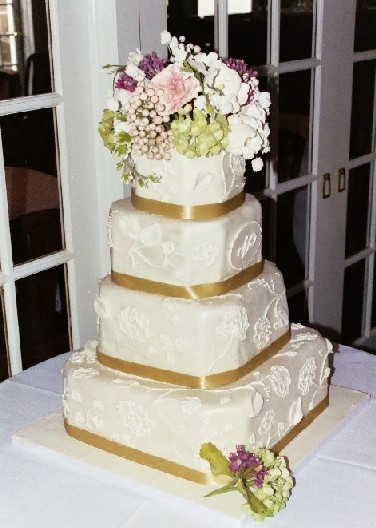 This four tier monogrammed rolled fondant wedding cake is decorated with a royal icing vine and floral pattern creating a gorgeous tone on tone effect. The gentle colors of the sage green hydrangeas, tulips, blossoms, berries and cabbage roses are lovely for an early summer wedding.
Fashionable stacked boxes create an outstanding, creative, whimsical wedding cake. Each component of this collection of cakes has been created out of sugar and hand painted.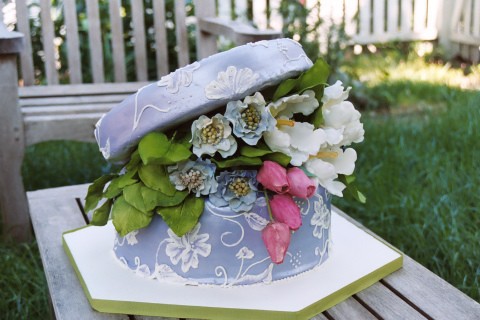 Wedding cakes don't always have to be a collection of stacked tiers. They can take on just about any form. This Limoges box cake is an excellent example. Suitable for weddings of any size, Limoges boxes can be designed for weddings from 25 guests to 200…or more. Other examples of Limoges box cakes and cake collections are featured in my Special Occasion Cakes section of this website

.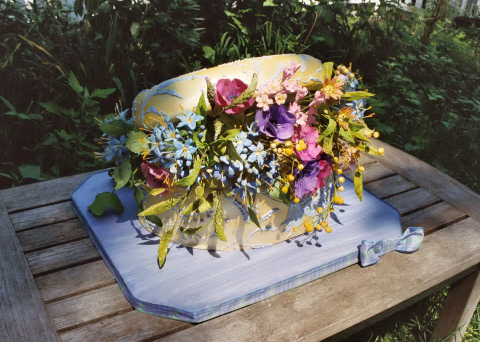 Chic weddings for the 'not so traditional bride' can become utterly fantastic with an unusual cake. Wedding cakes are taking on so many new and different points of view to move with the trends. Today's chic bride can choose fabulous colors and shapes for their cakes as an expression of their individual style.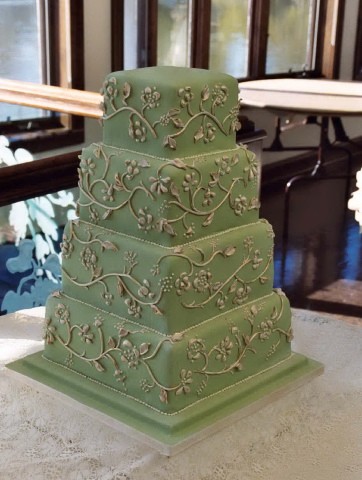 Elegance is realized through a quiet symphony of color in this demure wedding cake. Decorated entirely with hand sculpted rolled fondant highlighted with hand painted details to create a truly elegant and memorable wedding cake for a fabulous bride.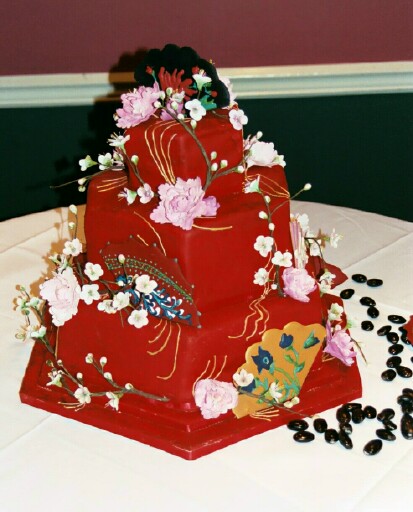 A gorgeous red wedding cake created for a unique Chinese wedding. A hexagonal cake adorned with peonies, apple blossoms and handmade fans made out of royal icing. Inspired by a Colette Peters' design.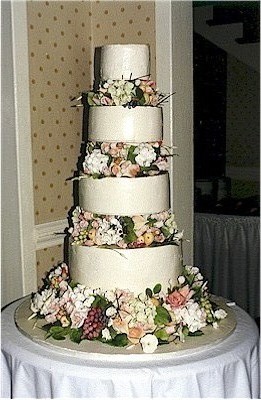 An exquisite four tier confection filled with sugar hydrangeas, roses, lady apples, grapes, and morning glories.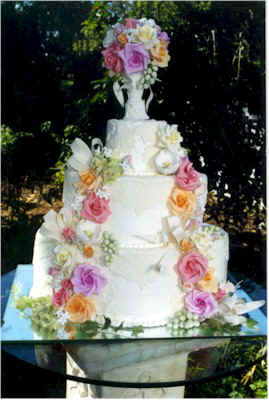 The colors for this breathtaking wedding cake were inspired by the colors in the bride's bouquet. Sugar tulips, roses, grapes ivy, jasmine, hydrangeas, ribbons and fondant lace create absolute 'magic' in this design.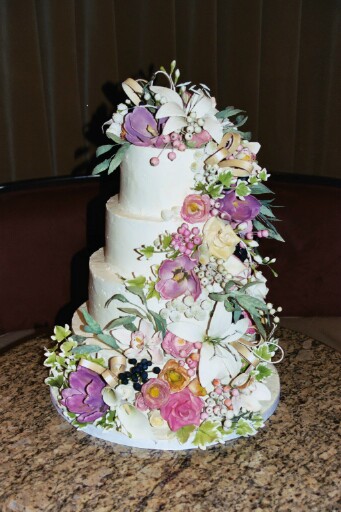 Brightly colored flowers create an exquisite cascade that effortlessly spirals up and around this four tier buttercream cake. Tulips, orchids, roses, Casablanca lilies, calla lilies, and ranunculus, create a magical combination.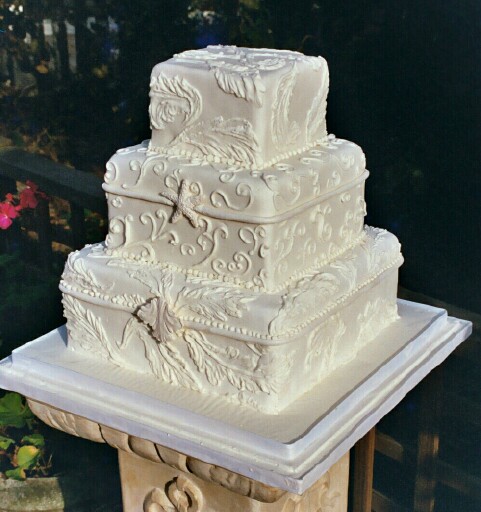 A gorgeous white wedding cake decorated lavishly with royal icing.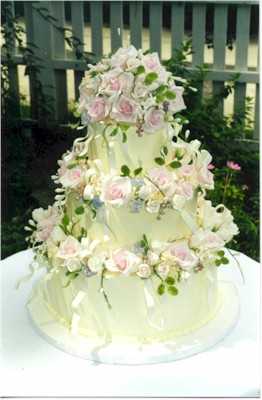 Sugar roses, tiny blossoms, leaves, freesias, and ribbons create a charm that is unimaginable.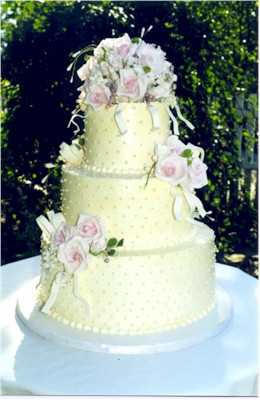 Sugar roses, ribbons, berries, freesias and blossoms are beautiful on this summer wedding cake.