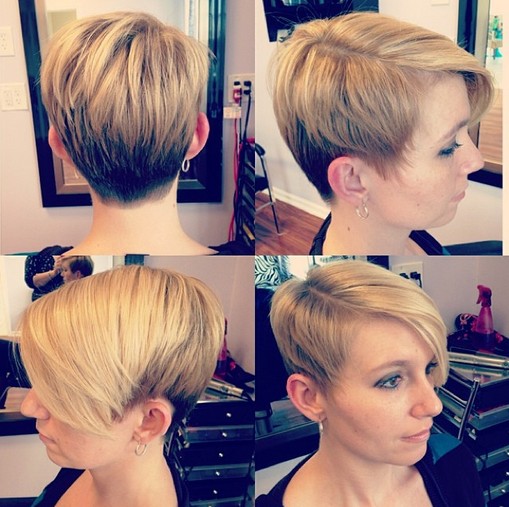 With only 2% of the world's population being naturally blonde, light hair is a really good way to stand out from the crowd. On mousey-brown or dark-blonde hair, it's easy to lighten hair just a few shades to a more flattering golden blonde.
This short asymmetrical cut is perfect for giving yourself a spring makeover with style and easy maintenance. Even though it's bleached blonde, which grows out and used to need re-touching every few weeks – the latest looks start off with darker roots! That means you can space out the colour refresh much longer, because this short haircut is a two-tone design!
The back and sides are left dark, emphasising the precision cutting with the top layers getting the most blonde-density. So on a geometrical cut like this trendy short hairstyle, the strong lines are softened around the face by the light-blonde shade.
Very light blonde shades, like platinum-blonde, are in fashion for 2015 hairstyles, as well as the new ash-blonde shades and golden blonde as shown in this short haircut. So everybody will be able to get the best blonde shade to flatter their individual skin-tone!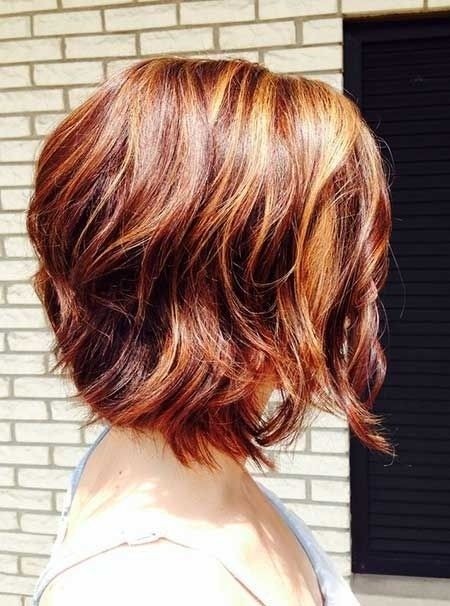 This casual, natural movement wavy red hairstyle is gorgeously emphasised by the beautifully blended colours. This is a lovely style for anyone growing their hair from a short cut or going shorter from a loose, long haircut! It's full of personality and offers something a little different from the ordinary.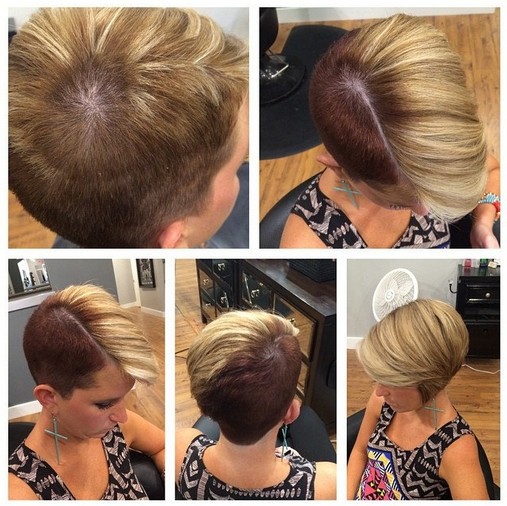 If you're torn between going ultra-short and having a sleek medium-short bob, have both! This super-stylish short haircut combines extreme asymmetry with contrasting colour to produce a look that proclaims your high-fashion credentials. And although it's a short hairstyle with lots of creative contrast – it's all done in very good taste.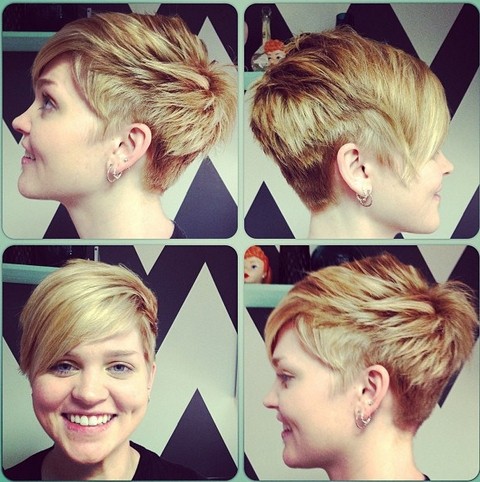 Bring out your playful side with this quirky high-fashion short haircut. This layered pixie cut style is great for anyone who loves attention, but hates spending hours on complicated styling routines! Taking inspiration from the trend towards 'windswept' looks, this lucky girl has a unique short hairstyle with loads of interesting movement and texture.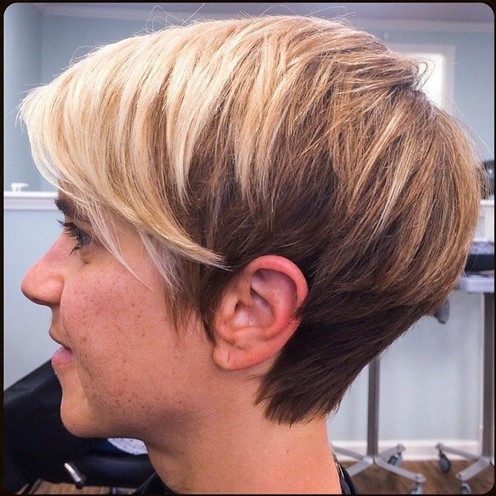 Dual colour in contrasting shades means you don't need to grapple with complicated styling every morning! The short pixie cut is created by clever cutting and the daring contrast of colour, so you can just wash and go with this short, snazzy style.