Wedding Reception Ideas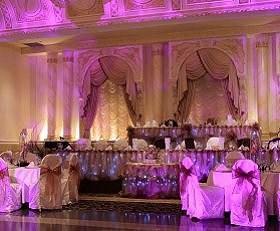 A little girl grows up dreaming of her
day with a perfect picture in her mind on how it is supposed to be. Then we grow up, get engaged and become shocked at how expensive everything is. Things become crazy and we get stressed out wanting everything to be perfect but wondering how to pay for it all. A wedding should not put you in debt. Debt is not a good way to start a new life with the person you love. The reception can be the most expensive part of your wedding; the location rental, the food, the alcohol and other beverages, the DJ or band, the flowers, the place settings, etc., etc. There are ways to cut costs. First of all it is your reception; do not worry about pleasing your guests. They are supposed to be there to share in your special day, not to critique the food and the decorations. I've been to many, many weddings and receptions and I can't remember ever thinking that anything they did was tasteless or tacky. I don't recall caring whether or not they had extravagant decorations or simple centerpieces. That was not why I was there.
One of the easiest ways to cut the expense of your reception is to cut all the extras. Unless you can get a great package deal that includes all the bells and whistles, you don't need them. You can choose to have your reception earlier in the day so you don't have to provide guests with dinner. You can have hour devours and finger foods along with your. You can skip the alcohol or just have the champagne toast and shots for the dollar dance. Giving shots for the dollar dance works to your advantage because if guests want the alcohol they have to pay to dance with you to get it. Another option is by having a cash bar, let guests pay for their own alcohol while you provide just tea, coffee, punch or soft drinks. If Uncle Fred or Aunt Jackie wants to get toasted, they can do it on their own dime.
If you really want to have a dinner reception check your area for culinary arts schools or cooking schools, sometimes they will cater an event for just the cost of food. You could even have pot luck. Have close friends and family each cook a special dish for your reception. You are bound to have great food without the cost of a caterer. Skip the fancy linen tablecloths, china, and silverware settings. I about had heart failure when I found out how much rental for those items would be. Plus I would have had to wash everything before returning it, except the tablecloths. Paper plates and plastic silverware are fine. No one will be insulted because you didn't have fancy table settings. If you think someone will be insulted maybe you should consider not sending them an invite. You can coordinate the plates, napkins, and silverware with your wedding colors and it will look very pretty. You can also use plastic or paper tablecloths. Everything will be disposable and you won't have to worry about returning rentals when you should be enjoying your honeymoon.
If you want decent entertainment, check out local colleges for bands or DJ's. With modern technology and computers many college students have excellent music skills. Music can be downloaded from the internet and saved on an MP3 player or burned onto a CD. You can get a techno savvy person to play music at your reception. Just give them a play list of certain songs you want played at certain times and make sure they have plenty of your type of music on hand. Give them a list a head of time so they can download any specific songs you may want.
Be creative when planning your and reception and find ways to cut costs. Remember it is your wedding and if anyone has any problems with what you are planning ask them if they would like to pay for it to be done their way. If not remind them it is your wedding and your money you are spending.