Paging all shoe-lovers, and that's all of us, right? The Summer '15 runways gave us a whole new crop of kicks to covet for this season. So what exactly do we have to look forward to? Designers emphasized wearability and ease, delivering flatforms and block heels, not to mention a selection of flats, dressed up with fringe and embellishment so you don't even have to feel guilty about not wearing your heels. It's all right here; just scroll for your preview of Summer's new footwear.
1 – Woven Details
Whether crafted with a more natural look or made of more futuristic technicolor fabric, giving subtle dimension to heels and Summer sandals.
2 – Power Pumps
Pointed toes and high stiletto heels were still the mark of a great power pump. Summer '15's iterations come with ankle straps, slingbacks, too, and in every case, they're still a sign of classic womanly dressing.
3 – All Laced Up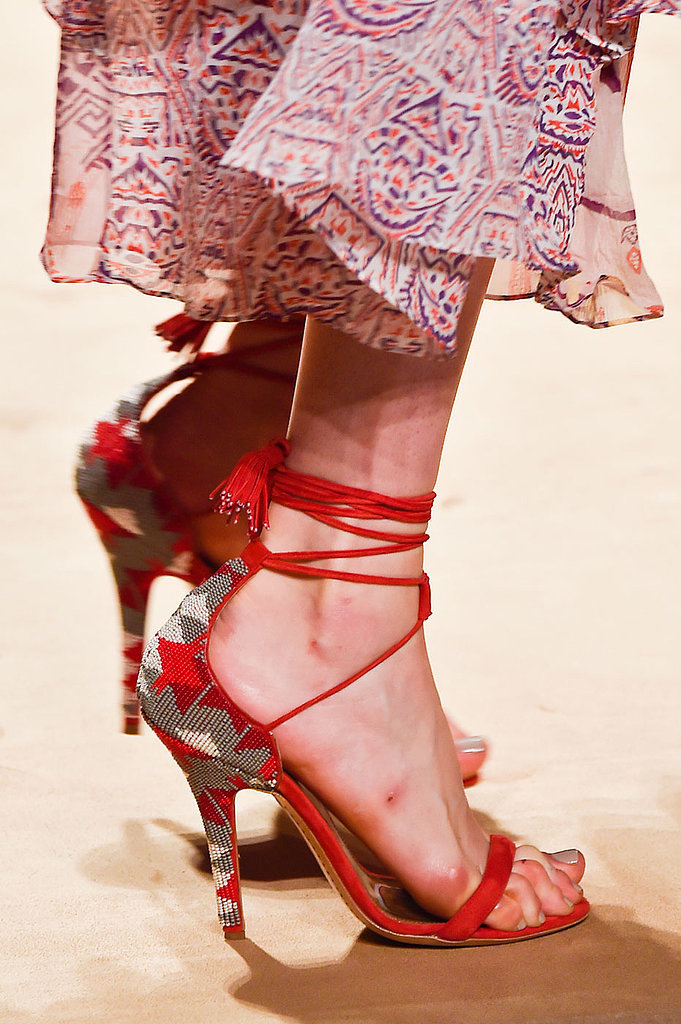 Whether they're tied up around the ankle and even the calf, we're already predicting that statement-making lace-up sandals will be any fashion girl's must-have footwear come Summer.
4 – Western Influence
With bold references, like spurs and the tougher, metal hardware at Marissa Webb, or more subtle influence, like the shape of the shoes at Victoria Beckham, Western-inspired kicks are having a moment.
5 – Fancy Flats
Embellishments, feathered details, fringe, and multistrap buckles made Summer '15 sandals anything but average. These flats are dressy enough to wear right along with your party dress.
6 – Colorblock
Two tones — sometimes even three — are better than one. Thatwas the lesson with the colorblock sandals, ankle-straps, and slides that hit the runway.
7 – Block Heels
Forget tall, spindly stilettos — the heel to have for Summer is a wide, supportive block heel. Feet, rejoice!